Baked Corn Chips
2013-02-06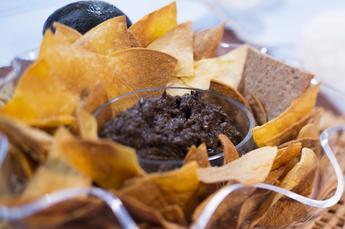 Servings:

4

Prep Time:

35m

Cook Time:

60m

Ready In:

1:30 h
Ingredients
20 corn tortillas
Canola oil spray
Salt
Ground cumin (optional)
Method
Step 1
Corn chips don't have to be bad and forbidden. These chips don't take long to cook, they're not laden with the unhealthy oils that are known to help cause cancer, and they taste better than the ones you'll get in a store. As a matter of fact, once you've had these, the store-bought ones won't compare!
Step 2
2 large red beets 2 large golden beets ¼ cup chopped fresh basil 3 tablespoons extra-virgin olive oil 3 tablespoons balsamic vinegar 1 teaspoon Dijon mustard ¼ cup walnuts, chopped 3 cups arugula Salt and pepper 20 corn tortillas Canola oil spray Salt Ground cumin (optional
Step 3
Cut each tortilla into quarters and layer pieces on a canola-oil sprayed baking sheet. Spray lightly with canola oil spray, and season with salt and cumin.
Step 4
Bake at 350 degrees F. until crisp and brown. These taste great served warm, but they'll also hold up well for a couple of days of snacking.
Step 5
Note: In a hurry for some quick munching? Place a corn tortilla in the microwave for 2 minutes, and you've got an almost instant healthy chip!
Step 6
Makes 80 chips