Beet Salad
2012-08-06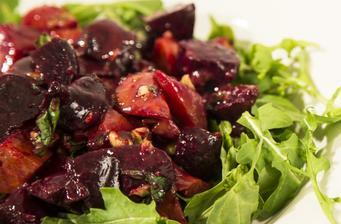 Yield:

6 Rolls

Servings:

3

Prep Time:

15m

Cook Time:

15m

Ready In:

40m
Most of us think of beets as red vegetables, but they also come in white and yellow (golden). Red beets may prove to be a powerful cancer-fighting food. The pigment that gives beets their rich red color is betacyanin, and it's been shown in several studies to be an effective cancer fighter.
Ingredients
2 large red beets
2 large golden beets
¼ cup chopped fresh basil
3 tablespoons extra-virgin olive oil
3 tablespoons balsamic vinegar
1 teaspoon Dijon mustard
¼ cup walnuts, chopped
3 cups arugula
Salt and pepper
Method
Step 1
Preheat the oven to 425 degrees F. Trim the tops and roots from the beets, and wash the vegetables very well. Separate the golden beets from the red beets. Cut two large pieces of aluminum foil (large enough to fold over and seal beets in). Place the red beets in the center of one piece of foil and the golden beets in the center of the other piece of foil.
Step 2
Fold each piece of foil over and seal each packet so beets are tightly enclosed in the foil packets. Place the beet packets on a cookie sheet, and bake in the preheated oven until the beets are soft, about 1 hour. Test if they are cooked by poking a beet, through the foil, with the top of a sharp knife. If the knife glides in smoothly, the beets are done. Remove from the oven and allow the beets to cool while still in foil.
Step 3
When the beets are cool enough to handle, open the foil packets carefully. Run the beets under cold water while rubbing them, and the skin will peel off easily. Still keeping the beets separate, slice the beets and place the red beets in a small bowl, and the golden beets in another small bowl. In another large bowl, whisk together the olive oil, balsamic vinegar, and mustard. Add the beets, basil, and walnuts and toss gently. Salt and pepper to taste. Serve on a bed of arugula. Serves 3-4