Stuffed French Toast
2013-03-17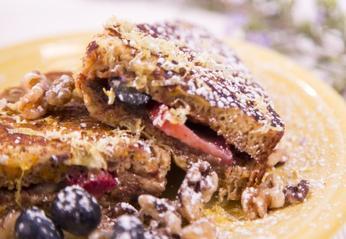 Yield:

1 Cup

Servings:

1

Prep Time:

10m

Cook Time:

10m

Ready In:

15m
Ingredients (For the puddings)
4 pieces whole grain or whole wheat bread
4 tablespoons almond butter
2 bananas, sliced thinly long-ways
4 large strawberries, sliced thinly
½ cup fresh blueberries
2 eggs
1 cup nonfat or soy milk
1 teaspoon cinnamon
½ teaspoon salt
½ teaspoon almond extract
Zest of 1 large orange
Zest of 1 large lemon
¼ cup chopped walnuts, toasted
Dusting of powdered sugar (optional)
Canola oil spray
Process
This is a rich, decadent treat that couldn't be easier to make. The fruit inside the toast gets warm and gooey, and there's plenty of good stuff in here, too. Blueberries, walnuts, cinnamon, and almond butter are all full of antioxidants that help protect you against cancer.
Spread almond butter evenly over 4 pieces of bread, as this will help hold the French toast together. Place the sliced bananas evenly on top of almond butter on 2 pieces of bread. Place sliced strawberries evenly on top of banana slices and blueberries evenly on top of strawberries.
Make 2 sandwiches by placing the almond butter covered pieces of bread on top of the fruit layered pieces of bread. Press the sandwiches down lightly so that they hold together when dipped into the egg mixture. Cut sandwich into quarters diagonally.
In a medium bowl, mix the egg, milk, cinnamon, salt, and almond extract, and whisk together well. Dip the sandwich quarters into the egg mixture to coat thoroughly. Preheat a griddle or skillet to medium. When you are ready to place the French toast on the griddle or skillet, spray the preheated griddle or skillet with canola oil spray.
Place the dipped sandwich quarters onto griddle or skillet and cook for 3 minutes on each side, flipping the sandwiches until both sides have a golden brown color. When finished cooking, dust with zests and toasted walnuts. Dust with a very light dusting of powdered sugar, if desired. Serves 2-3.